Installation
Install the Files on the Web Server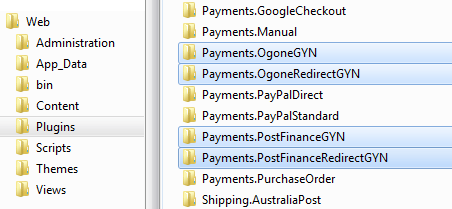 Locate Folder Structure

Use Remote Desktop, WebDAV or FTP to open the folder structure of your nopCommerce store on the web server and open the folder "Plugins".

Copy Files from ZIP File

Open the downloaded ZIP file, open the folder of the version you have in use, and copy the 4 folders to the "Plugins" folder on the web server.
Activate the Plugins in nopCommerce
Open nopCommerce Administration

Browse to your nopCommerce website, login as a administrator and open the administration area.

Restart the Application

Restart the nopCommerce application to load the new plugins into the list of available plugins.

Activate the Plugins

Open the Plugins list from the menu "Configuration" > "Plugins" and locate the Plugins 'Ogone DirectLink', 'Ogone Redirect', 'PostFinance DirectLink' and 'PostFinance Redirect'.
Click "Install" on each.
Install all 4 plugins, even you don't use all.